Flu vaccinations for 50 to 64 year olds
Following the government announcement that 50 to 64 year olds will be able receive a free flu vaccination this year, we are now taking bookings for flu vaccinations for patients in this age range.
We have a Flu clinic on Saturday 19th December as well as other weekday clinics. We only have a limited number of vaccines and appointments will be booked on a first come, first served basis. Please call reception on 02035383959 between 9.30am-1pm or 2.30-6pm to book a Flu appointment.
We are continuing to provide flu vaccinations to over 65s, under 65s with certain long-term medical conditions, pregnant women and young children. If you are in one of these eligible groups and have not yet had your flu vaccine please contact the practice as soon as possible to book an appointment.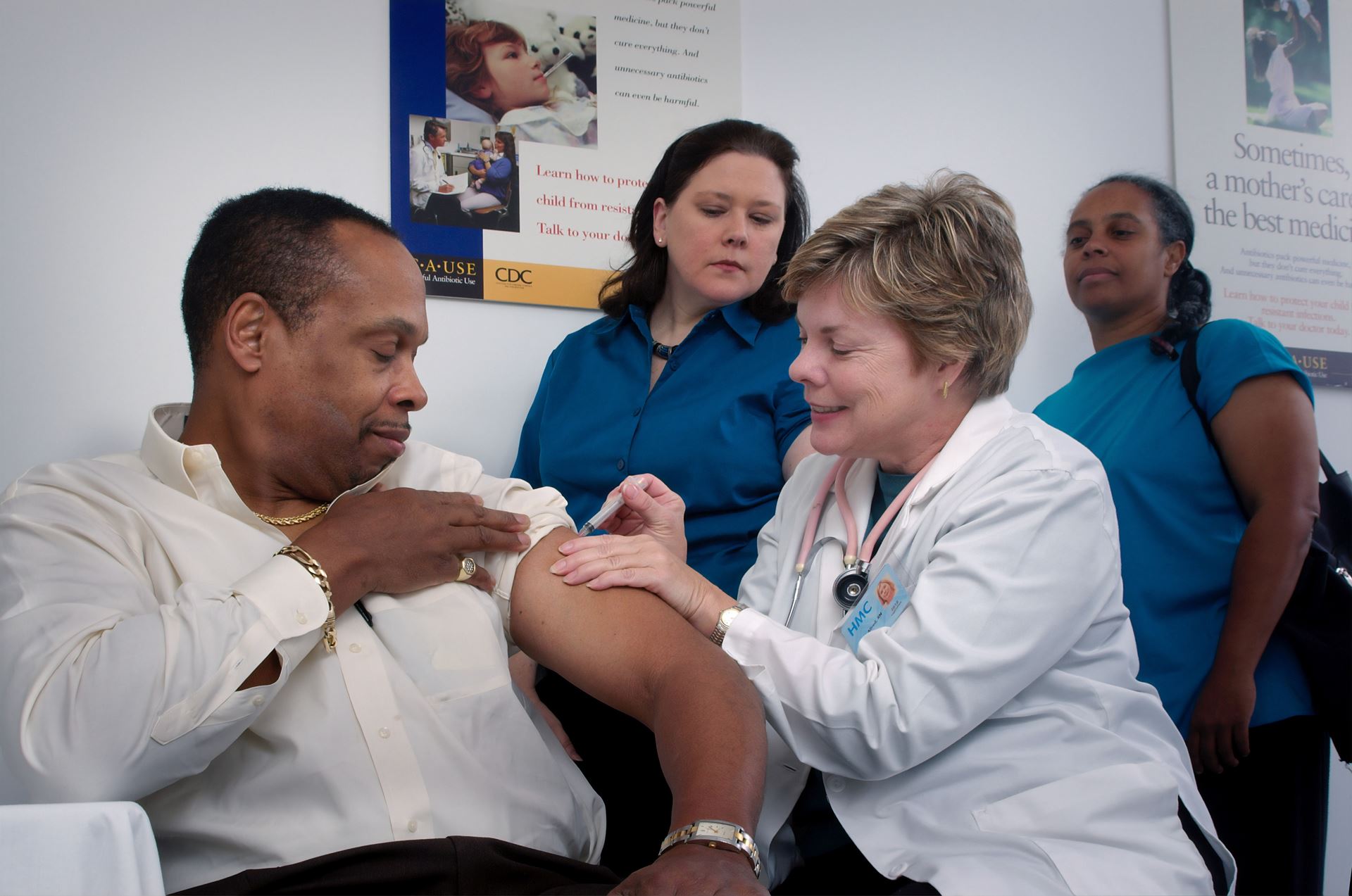 Seasonal flu is a highly infectious illness caused by a flu virus. The virus infects your lungs and upper airways, causing a sudden high temperature and general aches and pains. You could also lose your appetite, feel nauseous and have a dry cough. Symptoms can last for up to a week.
You may be invited for a flu jab if you are:
adults 65 and over
people with certain medical conditions (including children in at-risk groups from 6 months of age)
pregnant women
people living with someone who's at high risk from coronavirus (on the NHS shielded patient list)
children aged 2 and 3 on 31 August 2020
children in primary school
children in year 7 (secondary school)
frontline health or social care workers
Later in the year, the flu vaccine may be given to people aged 50 to 64. Please check back for more information on this.
However, if you're aged 50 to 64 and in an at-risk group, you should not delay having your flu vaccine.
Our team have worked very hard to provide a safe plan for managing the flu clinics and are taking extra precautions due to the ongoing COVID pandemic. This means that the clinics will be slightly different from previous years, with social distancing in place in and outside the building and more regimented process during the clinics.
Due to problems with the delivery of Flu vaccinations from some suppliers, we have been forced to separate our clinics as detailed below:
All patients over the age of 65 (on 31st March 2021) –Flu clinics will be held from the beginning of September (see dates further down)
Patients under the age of 65 (on 31st March 2021) and in an at riskgroup – Flu clinics will be held from the beginning of October (see dates further down)
Children (Nasal Spray)– Now available for all 2 - 4 Year olds and children in at risk groups aged 6 months – 18 years.
Patients age between 50 and 64 (on 31st March 2021) and not in a clinical at risk group – Now taking bookings. See top of page for details.
Patients age between 50 and 64 (on 31st March 2021) and not in an at risk group – BOOK FROM 10th DECEMBER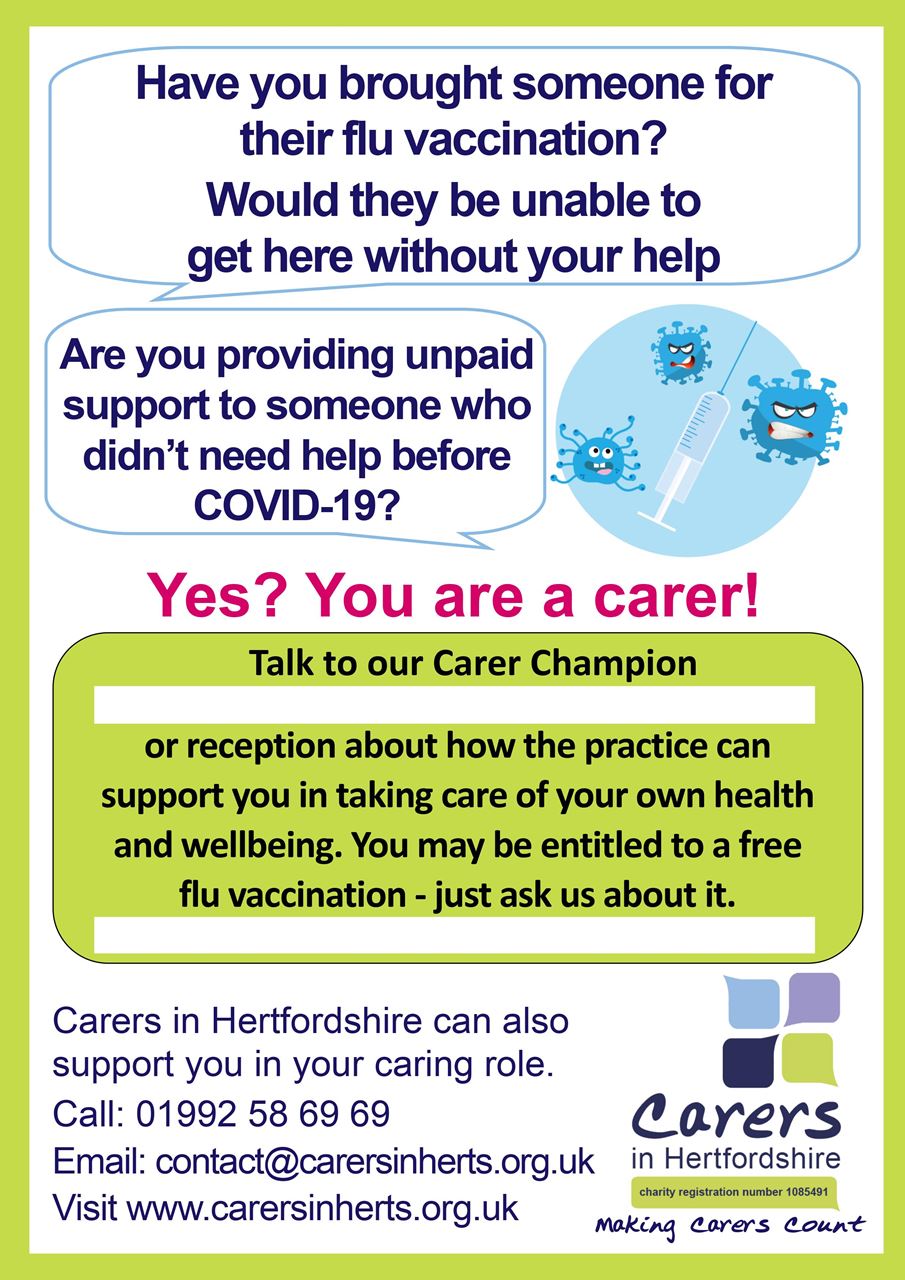 CLINICS
The clinics will all be by APPOINTMENT ONLY
So please call reception to book your appointments once they have been released for the category that you fall into (see booking appointments section for appointment release dates)
All patients eligible for the flu vaccination would have received a text, email or letter advising them to book an appointment.
Please do not call to book for a vaccination if you haven't received communication from the Practice.
Clinics will be held in the Practice but the queueing system will run outside of the Practice and into the car park – Halfords are kindly supporting us with this so we ask that you please park in the main shopping park car park and not outside Halfords.
The Practice and patients will maintain social distancing during the clinics and because of this the queues will look longer than usual. Please keep 2 metres apart, wear face coverings and listen to the advice from our staff members.
BOOKING APPOINTMENTS
Please call reception on 02035383959 to book your flu vaccination appointment. The release date for the appointments can be seen below:
All patients over the age of 65 (on 31st March 2021) –BOOK FROM 24th AUGUST
Patients under the age of 65 (on 31st March 2021) and in an at riskgroup – BOOK FROM 7TH SEPTEMBER
Children (Nasal Spray)– Now Available
Patients age between 50 and 64 (on 31st March 2021) and not in an at risk group – BOOK FROM DATE TBC – check back soon
***Please do not attempt to book an appointment before the dates above as the clinics will not be on the system***
***Patients in an at risk group would have received a text, email or letter advising them to book an appointment
ATTENDING FOR YOUR VACCINATION
It is very important that you read the following information to help prepare for when you attend for your vaccination:
Please arrive on time for your appointment.
You may join the queue 10 mins before your appointment time. Any earlier than this and we will have to ask you to return at your designated time
If you arrive more than 10 minutes late, you will have to rebook
Bring a face covering – All patients will need to wear these in the Practice
Ensure you are wearing a short sleeve t-shirt (no jumpers please). You will be asked to have your arm prepared when entering the building
Bring an umbrella if it is raining
Do not attend if you have any symptoms of COVID. This includes:

new, continuous cough
high temperature (≥37.8oC)
loss of, or change in, normal sense of taste or smell
anyone in your household has a 1) new continuous cough or 2) a high temperature or 3) loss of, or change in normal sense of taste or smell?

Our staff will be checking temperatures when entering the queue. Any patient with a high temperature (≥37.8oC) will need to rebook
Any patient with COVID symptoms should self-isolate and arrange for swab testing
RESOURCES
For further information on Flu guidance and COVID please use the links below:
Flu - https://www.nhs.uk/conditions/vaccinations/flu-influenza-vaccine/
Childrens Flus - https://www.nhs.uk/conditions/vaccinations/child-flu-vaccine/
CDC - https://www.cdc.gov/flu/season/